Hi folks! Ayacon is over (boohoo) but I have pics to show you! I ran a Phoenix Wright panel at the con which was pretty well attended despite it being at 10am the morning after the J-Pop disco XD Below are some photos that I have filched from various locations (mine are still being processed), and links to some Youtube vids:



Vid: Chatting about Gyakuten Kenji

Vid: Art slideshow

Photoshoot - including more maid hijinks!

WARNING - MEN IN MAIDS OUTFITS - SCROLL DOWN IF YOU DARE!

..

..

..

..

..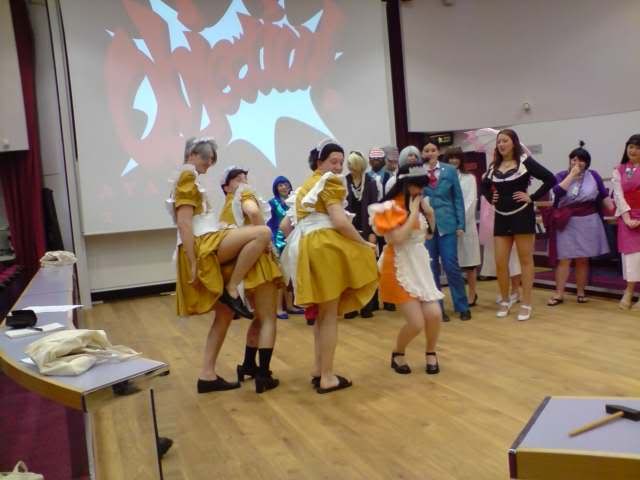 Starring Gumshoe, Edgeworth, Phoenix and Maya :P They got the cosplay prize - I couldn't not give it to them really XD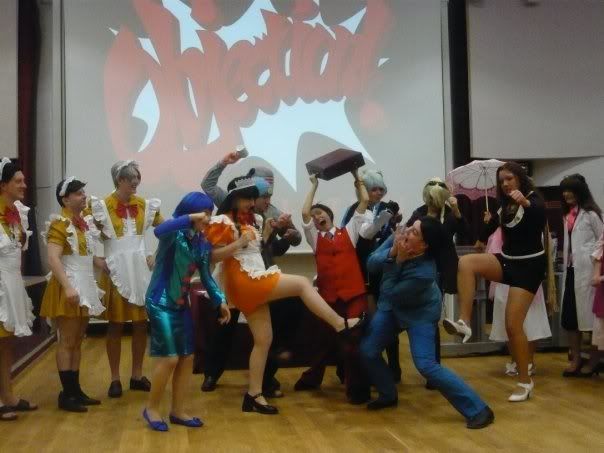 Everyone loves to batter Phoenix!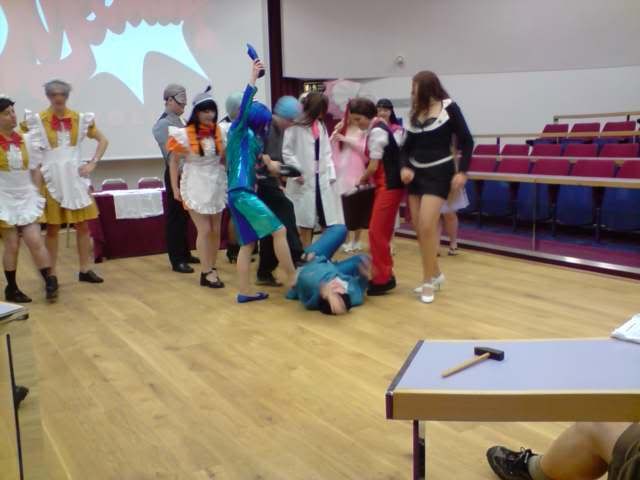 Oops, I think we killed the lawyer.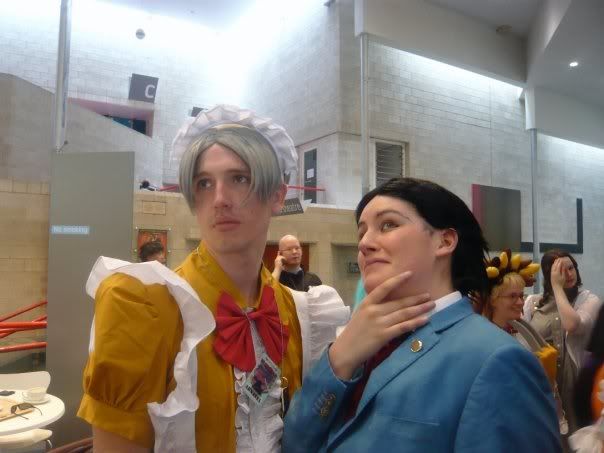 Hmmmmm...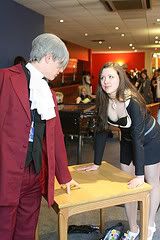 Edgeworth vs Mia faceoff!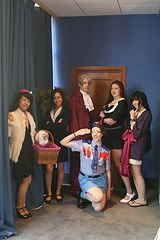 Too bad the Maggey and Angel couldn't make it to the panel D: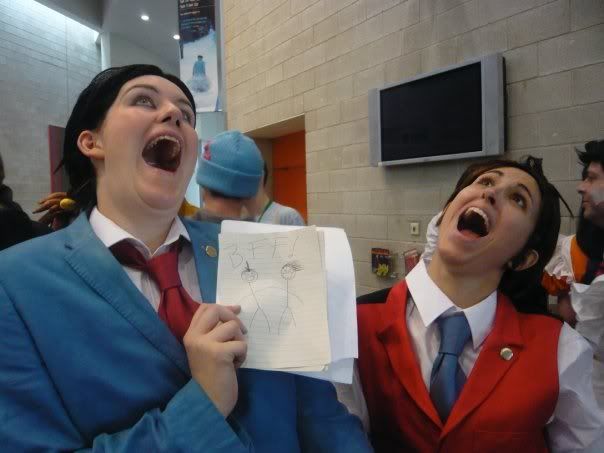 BFF!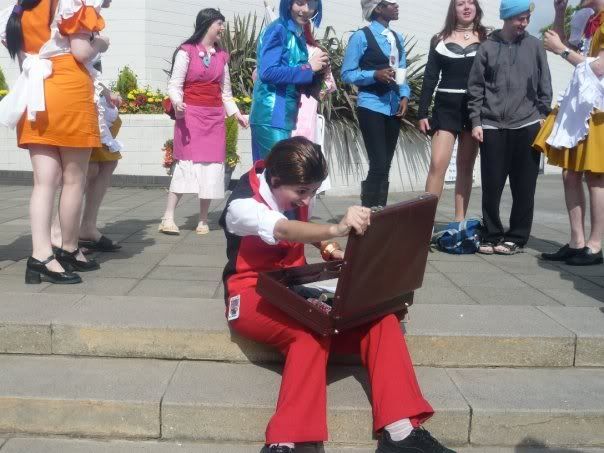 Apollo's briefcase contained case files, caffeine and the Edgeworth manga. Just what you need for a con! XD



And here's a pic of my Lisa Basil cosplay which took aaaages to make :D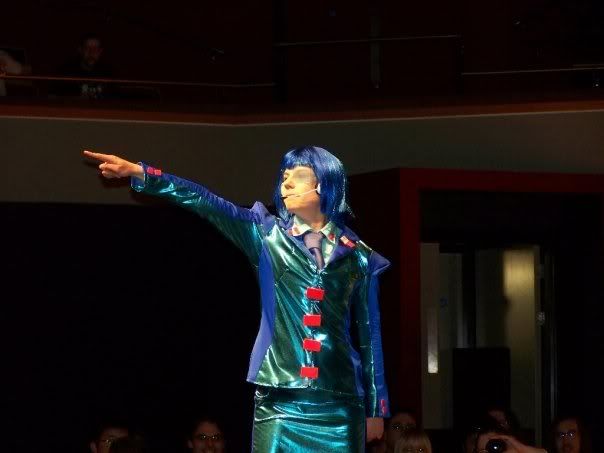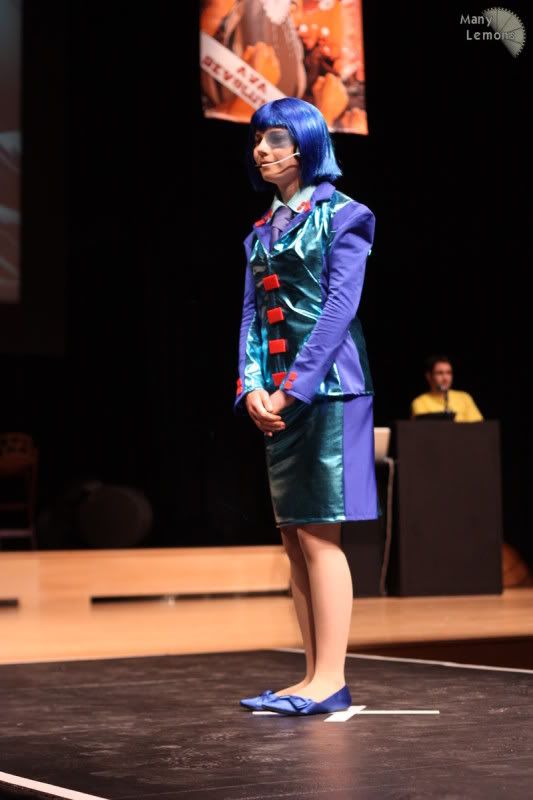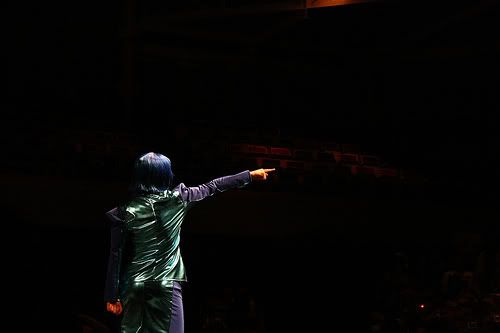 The Making Of

Wig: Wig - Mixed Blue from Professional Only, with the fringe cut in and the ends trimmed

Visor and UMD: Cheap headset from Tesco with the wire cut off, painted white with Tippex, and the UMD was once upon a time a Tesco liquid washing tabs box, with a blue transparent file divider cut to shape and attached with sticky-back plastic. I actually forgot it for the masquerade and had to run all the way back to my room to get it XD

Tie: 99p from a charity shop, wooooo 8D

Jacket: Shiny blue and royal blue lycra. I had a choice between shiny or PVC but thought shiny was more in keeping with the character :D

Originally the Jorinde pattern from Burdastyle, followed up to the point of attaching the shoulders (and omitting the back neck facing 'cause it was a pain in the butt). Though I did cut the extra blue panels in at the sides.

Then I used this tutorial to draft the boxy sleeves she has. This was the hardest part of the entire costume. I did about six mockups of the shoulder attachment alone, and then came attaching the sleeves to the boxy shape I'd created, and the Jorinde sleeves no longer worked despite me cutting the boxes from them, so I had to do new two-part sleeves. Because Lisa's taper out at the shoulder and at the wrist I ended up with a very peculiar sleeve shape - a straight top sleeve but an almost hourglass shaped undersleeve. It probably wouldn't have worked if I hadn't been using lycra - as it was they were tight at the elbow and made the shirt I was wearing beneath it ruck up. Again, that took several attempts on both the mockup and the actual article.

I lined the jacket with cheap stretch lining fabric. I had to line it by hand because omitting the back neck facing meant I couldn't bag it using the sewing machine. It took aaaages D:

The jacket facings and the upper sleeves are all interfaced, ditto the boxy shoulder bits. They didn't stand up as well as I'd hoped and adding shoulder pads or set in sleeves didn't seem to make much of a difference. I may put foam in them at some point.

Buttons: Translucent Fimo. The big ones have hooks glued to the back that hook onto eyes sewn onto the costume - it's got a zip down the middle so that let me move the buttons so I could put on or take off the jacket. And the little ones are glued onto school shirt buttons that are sewn onto the jacket. I tried several different glues and PVA worked the best - hot glue didn't stick and neither did epoxy.

The red buttons were MEANT to light up but I failed at the electronics side of things. The idea was to construct a timed circuit that set off a cascade of lights with a five second delay. Here's just a single light:

Video

But when I wired everything up with the counter chip all the lights came on and just dimmed in succession. I asked around on some electronics forums and it turned out the counter chip I had wasn't strong enough to power the LEDs properly. They gave me a more complex circuit diagram that I tried to make, at which point I somehow managed to blow up my circuit board D: Things went downhill from there - despite me replacing all the components I no longer seemed to be able to get anything to work! Because it was so unpredictable and there was now an ominous burning smell whenever I connected up the power, I decided to abandon the project. If it broke at the con I probably wouldn't know how to fix it, and worst case scenario was that I might spontaneously combust!

Skirt: Lisa doesn't have a bottom half so I made this up. She seemed a skirt wearing type. I just continued the front panels of the jacket down into this skirt - it's just a basic four panel one, though I had to create an artificial seam at the back because I didn't fit it so well, it flared out at the back too much. Again, all lycra with two darts at the front. I never pattern skirts XD

Shoes: Pointy pointy with bows and amazingly in matching royal blue, from Priceless Shoes before it shut down.

TOTAL COST: ~£143

Fabric -
Shiny lycra, 2 and a half metres at £10 a metre: £25
Royal blue lycra, 2 metres at £5 a metre: £10
Cheap stretch lining fabric: ~£5
Zips, cotton, elastic etc - £5-10
Shoes - £5
Wig - £18
Tie - 99p
Buttons - £3.50
Electronics - All up, once I'd found the receipts... £65. Maaaaaaaaan O_O Probably the most expensive failure I've ever had!

Anywho, hope you enjoy the mad pictures XD It was an awesome con and there were some fantastic costumes!